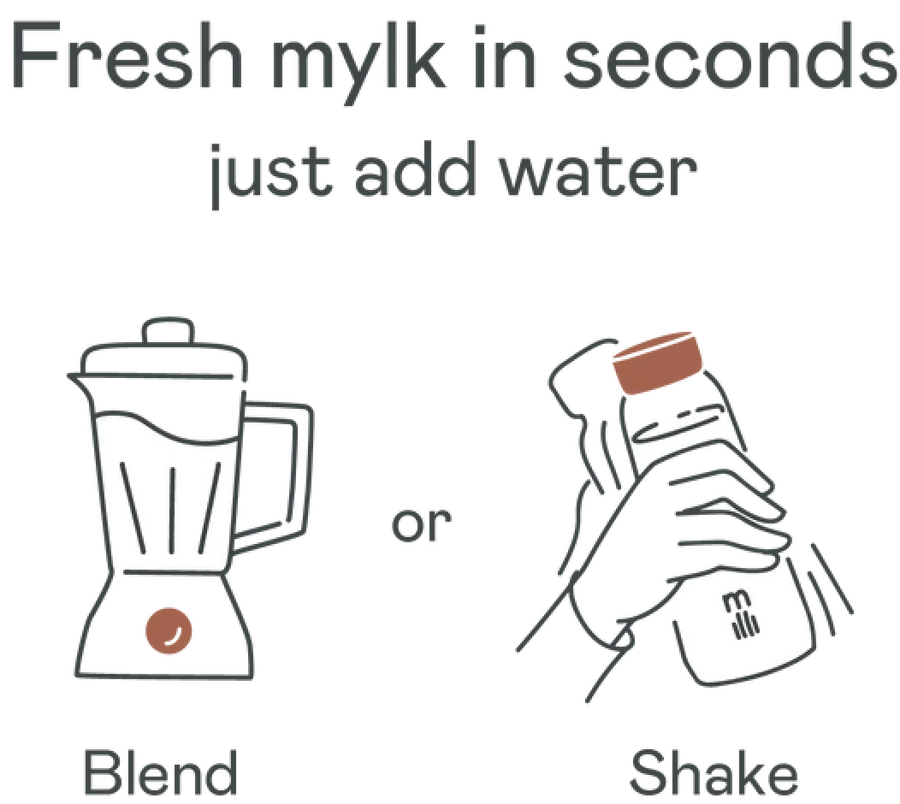 Add 1 full pack to a blender or the milli bottle
Add 28 fl oz of filtered water
Blend or shake to combine & enjoy!

For the very "silkiest" texture we recommend blending
Milli bottle:
If preparing in the milli bottle, add 1 pack of mylk into the bottle (the pack works like a funnel--place the top of the open pack into the mouth of the bottle and tap to empty). Add filtered water to the fill line and shake to combine. Once you've shaken the bottle, if you notice the combined mylk isn't quite at the fill line, add more water until the mylk fully reaches the fill line.
Customize:
Try experimenting with different water ratios to find your ideal creaminess. For richer texture, use a little less water. For thinner texture, add a bit more water.
Storage and use:
Refrigerate prepared mylk and use within 7-10 days. Separation is totally natural with our mylks. We don't add any nasty additives or emulsifiers (like gums and lecithins) to hold everything together. Simply give the mylk a quick shake before use.


Our mylk can play supporting actor or star of the show, so go wild! Enjoy milli on its own or in smoothies, lattes, chia puddings, soups, baked goods, and beyond.
Spill the mylk
Show us your fave #millimoments at home, work, or wherever you are
Follow us @millimylk
Need a hand? We're here Monday to Friday from 9:30 a.m. to 5:30 p.m. EST.
Send us a message and we'll get back to you within 24 hours.